Timber and steel building supplies
When you're shopping around for building supplies your main considerations revolve around price and quality. What's the point in buying low-quality materials that won't last or complete the job properly? And what use is overpaying for building materials you could find cheaper elsewhere? Through years of experience in sourcing, stocking, and managing building materials, Stan Dawson provides high-quality building supplies in Newcastle at a price you just cannot ignore. Get in touch today to enquire about any of our stock on 01661 860413.
We often recommend calling ahead to discuss your building and construction needs as we can put stock aside for larger projects. However, if you show up on the day you'll be spoilt for choice with our vast range of reclaimed wood supplies and steel building supplies.
Experienced building materials suppliers
Operating since 1979, Stan Dawson is a builder's merchant that stock, source and deliver a range of products across Newcastle and Northumberland. With reputation and trust at the heart of everything we do, we're able to provide the very best building supplies and services to our entire range of customers. There's something for everyone at Stan Dawson, so don't be afraid do give us a call or visit our head office for any advice on building materials. We're experienced in supporting large building companies plan their projects, as well as guiding individuals who are looking to do a spot of DIY at home.
With the sun shining and the birds chirping, what better time than now to get your garden in top shape? There's so much to choose from at Stan Dawson, and our reclaimed wood and steel supplies are perfect for your next garden idea. From paving materials to fence and gate posts, we can help you design that perfect pathway through your garden. If you're looking to redesign your gardens exterior or extended a certain area of your garden, we also supply gates, steel girders, wire mesh and railway sleepers.
Reclaimed wood supplies in Newcastle
From fencing and decking to flooring, there is a huge range of wood supplies available. Below, we take a closer look at some of the products on offer, and how they may help you with your building and DIY needs.
Fence posts and fence boards
Our timber fence posts and gate posts are made of tanalised timber and come in various shapes and sizes. If there's something specific you're looking to build, then call ahead to see if we stock the wood supplies you're looking for. With such a range of fence posts and boards, your construction ideas are endless, and we've had customers come from around Newcastle looking to build a new pool fence, temporary fencing whilst a wall is constructed, and even agricultural fencing for animals and livestock.
Plywood
We also stock and source various types of plywood including 8×4 softwood and up to 10×5 hardwood. We're able to cut any pieces to size so they meet your requirements, and even have larger orders delivered to your site. With plywood being made of wood veneer layers, it provides excellent strength and impact resistance. Hardwood plywood is also excellent for heavy-duty flooring and structures and should be considered for construction of buildings and structures.
Builder merchants in Newcastle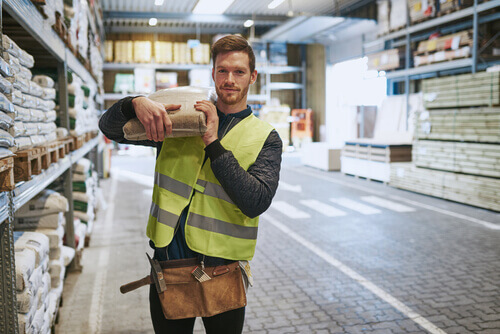 At Stan Dawson, we not only pride ourselves on our ability to stock and source a huge range of wood supplies and building supplies but also offer fixtures, fittings and delivery on all orders. If you purchase building materials with a project in mind, we also supply various types of nails, screws, masonry fixings, brackets, bolts, hinges and even fasteners. Available in indoor and outdoor quality, we can provide the very best building materials to meet your construction needs.
Based in Kirkley, you'll find us 4 miles past the Black Bird Pub and just left at Kirkley Hall Campus. You can enquire today on 01661 860413 to find out more about any of our building supplies we provide in Newcastle. If you can't find it at Stan Dawson, you probably won't find it anywhere else. We're always updating and adding to our range of building materials, and you can even pick yourself up some telegraph poles of varying lengths and sizes.
Stan is an industry expert. He has years of experience in supplying timber, steel and storage to a wide range of customers.